23Arts Summer Music Festival 2019
Season Recap
Tannersville Kids Day Camp Visit
Bernstein's Side @ Mountain Top Library
Pops & Prez @ Hudson-Chatham Winery Tannersville
Rat Pack Pool Party @ Villa Vosilla
Weekend I
Our venues this weekend included Kids Day Camp (est. 20 kids) Mountain Top Library (35 attendees) Hudson-Chatham Winery (26 attendees) All Angels' Church (78 attendees) Villa Vosilla (est. 40 attendees)
Hunter Foundations housing was incredible and our artists had a lot of fun staying on Main Street. Everyone had good things to say about the venues and their overall experience while on the mountaintop! Villa Vosilla fed us an incredible italian dinner at La Doria. Quality time on the mountaintop.
Special thanks to Maureen Garcia who really helped make our Friday event at the library a success! We were treated so well, not only by the staff at the library but by our contacts throughout the village at each venue, restaurant, etc.
Our Sunday morning at All Angels' Church ran smoothly and had a beautiful turnout. The event featured vocalist Christie Dashiell who is one of 3 select vocalists in Wynton Marsalis' new big band composition The Ever Fonky Lowdown.
Later the same day, Mayor Lee had a great time dancing with us by the pool at our Sunday afternoon Rat Pack Pool Party. Despite a brief pass of cloudy weather we had a sweet turnout and our attendees had a great time. Several return attendees from our previous events from the weekend.
Many attendees raved that the events are such a treat to the village, were incredible grateful to everyone involved and saying very kind things about the quality of our lineup. We had nice sized audiences for each event.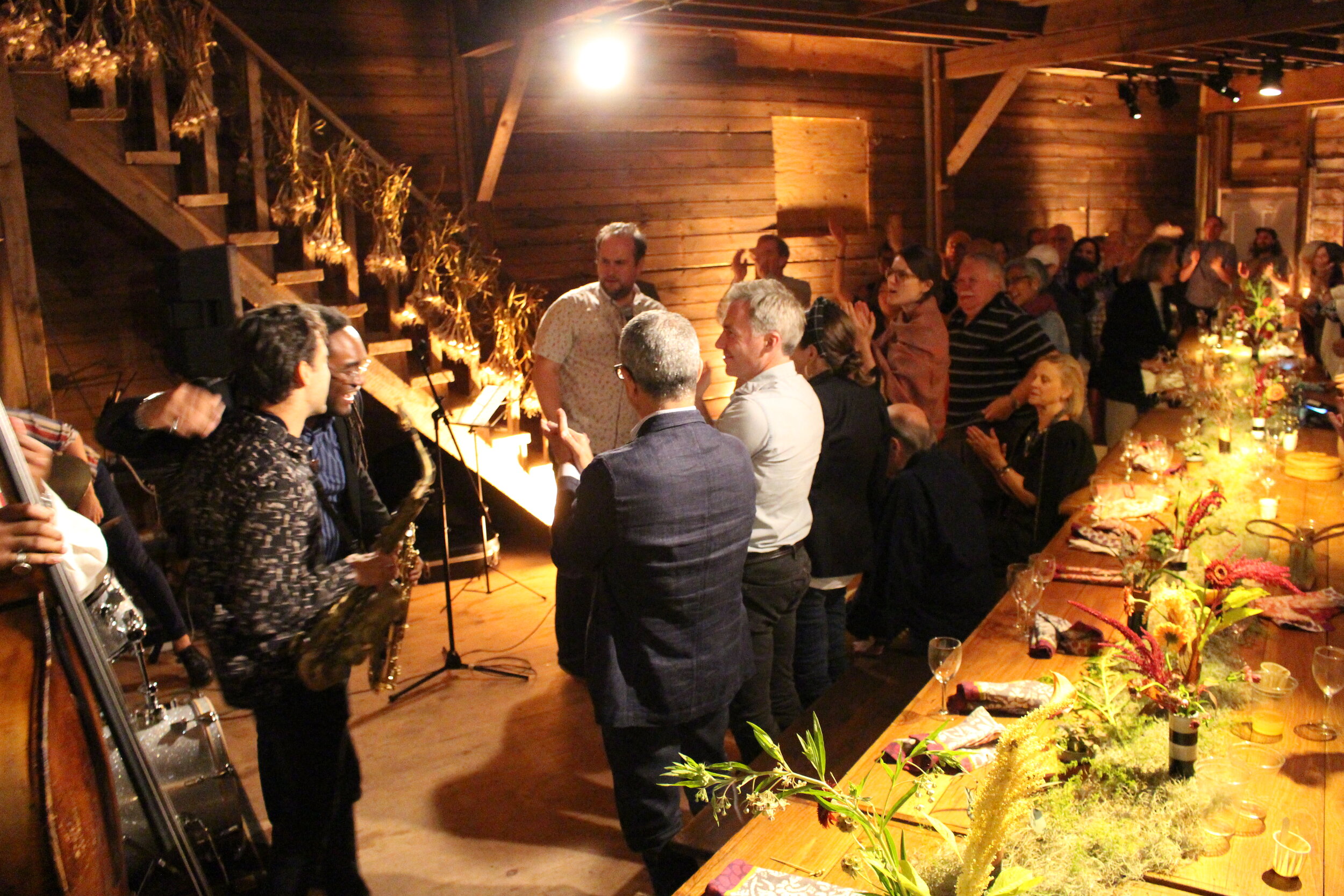 Tannersville Kids Day Camp Visit
Beyond the Blues @ Fromer Market Gardens
Blues @ the Mountain Top Arboretum
Playing Changes @ Mountain Top Library
Blues in All Forms @ KAaterskill United Methodist Church
Weekend II
On Friday afternoon we had our second visit to the Tannersville Kids Day Camp and brought master saxophonists Eddie Barbash and Patrick Bartley Jr. Seton Hawkins from JALC Education Department led the visit to about 20 kids ages 5-10 and taught them the elements of call and response in the Blues.
Later that night we had a blowout performance at Fromer Market Gardens! Massive thanks to Jim Cecchi for all of the support and also to the Hunter Foundation for their generosity in allowing our use of this incredible space! Several of the artists said this was one of their favorite events they have performed in a long time. Magical moment for the music and an estimated 125 attendees. We were excited to have the chance to host both village members and park members at this event. We hope to have many more in the future. Shoutout to amazing produce from Dallas & the crew at Fromer Market Gardens!
On Saturday we had another blowout show. Despite rain at the last minute, we were able to relocate the blues indoors and had audience flooding every doorway of the arboretums new Education center. Estimated 175 attendees! Might have set our record. Thank you so much to Marc for the support, it wouldn't have been possible without your help. Worth mentioning that this huge crowd stick around for an extra 20 min due to rain delay and also helped us reset our sound equipment inside! Wow. The performance was electric.
On Saturday evening we hosted accoladed NY Times critic Nate Chinen for a dialogue and award reception at Mt Top Library. Thank you so much Maureen for helping with everything and for buying a book! We had the honor of awarding Nate his 12th Jazz Journalism Association awards for his writing in jazz. Nate spent the weekend with his family in Tannersville as our guests at Hotel Mountain Brook and they had a great time, attended our Friday night gig and also the story time at the Arboretum on Saturday afternoon! We had about a dozen attendees to the library on this.
Lastly, on Sunday morning, we had a packed crowd at Kaaterskill Church. Brianna Thomas brought the house down (as usual) and it was a bit like a rock concert for how much people were wooing! Check out the attached video clips! Est 100 attendees.
We were able to fundraise quite a bit this weekend as well, in large part from Friday's event, so once again thanks everyone for all of your support and to all of those who turned out at our events this weekend. The band was really special and we are happy to have shared them with so many members of the community. A lot of fun.
Fictions: Borges in Tango @ Windham Civic Centre Hall
Stride & Choros @ Kaaterskill United Methodist Church
Weekend III
This event weekend included our annual visit to Windham. This year we featured Chris Pattishall's Fictions, a project originally world premiered with the Catskill Jazz Factory during a 23Arts residency in Summer 2016. It was a privilege to welcome the group back to the mountaintop to revisit and revitalize the original material. This event was presented with generous support by the Windham Foundation. Following the event, the Windham Foundation hosted a special post-concert drinks reception at the Windham Fine Arts Gallery. These moments are always a wonderful opportunity for our band to spend time with our supporters and was a great success.
On Sunday morning, 23Arts returned to Kaaterskill United Methodist Church for a performance honoring the piano styles of Brazilian choro and American ragtime. We had 80 attendees and many compliments from audience.
Heard in Harlem @ Mountain Top Library
23Arts Summer Finale @ Skip & Anne Pratt's Home
(+ CJF cross-continental residency and world premiere of The Spirit of Harlem)
Finale Weekend
This summer's finale weekend marked one of our most ambitious projects yet. 23Arts hosted the developmental artist residency for the Catskill Jazz Factory's The Spirit of Harlem, a world premiere concert in development for debut in Florence, Italy at New Generation Festival 2019.
A week of rehearsals at the Orpheum and a library talk by Loren Schoenberg of the National Jazz Museum in Harlem kicked off the week. Our festival finale performance at Anne & Skip Pratt's Home in Twilight Park featured a soft premiere of the specially-commissioned content.
In addition to its premiere in Tannersville, the show had residency performances at Hudson Hall, The Falcon, and Harlem School of the Arts before it went overseas for a sold-out world premiere in the heart of Florence at the Palazzo Corsini.